WELCOME TO THE NUSTONE WEBSITE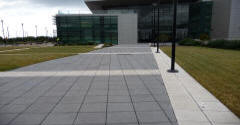 Nustone is a specialist supplier stone paving, cladding, architectural design elements and associated products.
Please take the time to explore our website which details our ranges of:
Natural stone products - Granite, Porphyry, Basalt, Sandstone, Bluestone, Marble, Limestone and Travertine.
Man-made stone products - Pressed Concrete and Reconstituted Sandstone; and
Architectural Design Elements - Columns, Balustrading, Facade
Elements and Wall Capping
We have also made available a photo gallery that demonstrates some of the uses of our products and ideas to maybe inspire you.
All of our products conform to Australian Standards with strict quality control.
We can arrange for speedy delivery anywhere in Australia.
Nustone prides itself on customer service and satisfaction, should you have any questions about any of our products please do not hesitate to contact us, and we will be pleased to answer any questions that you may have.